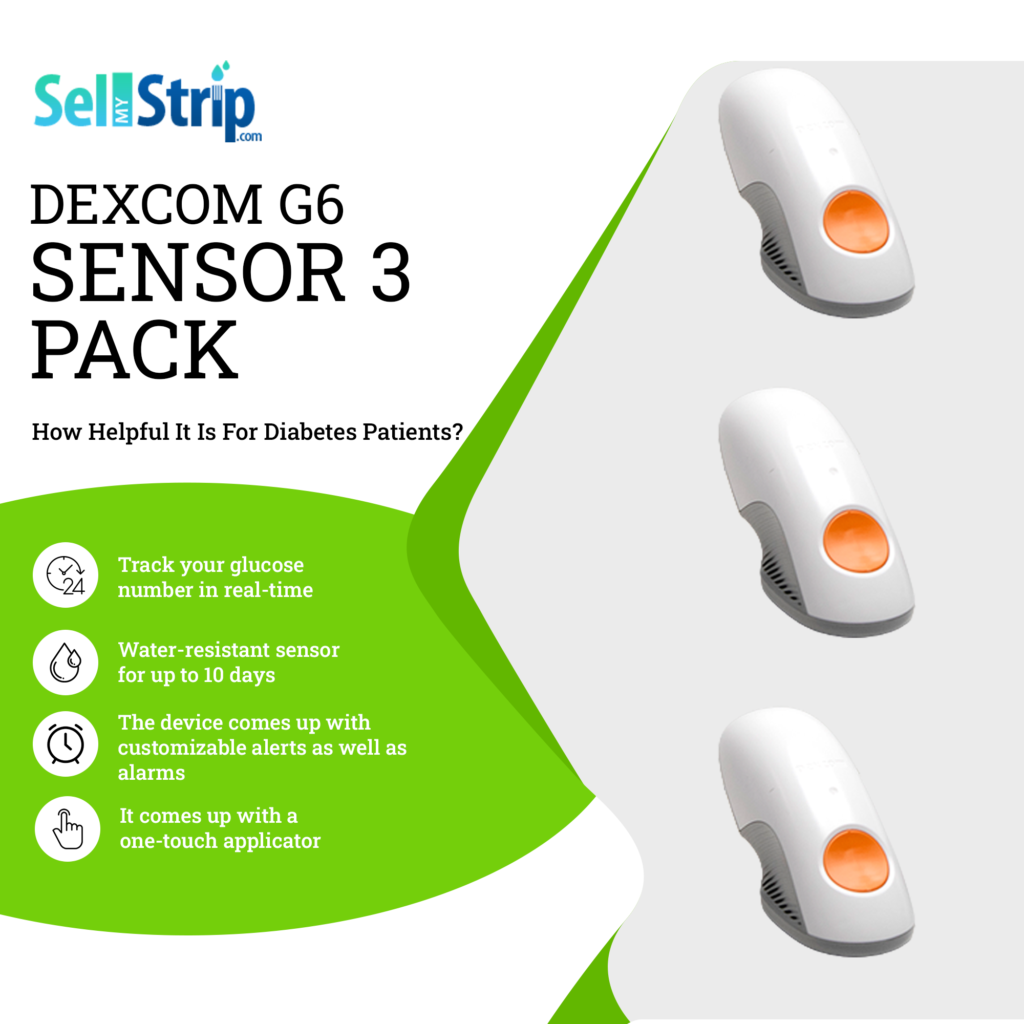 10 November 2021
Each Dexcom G6 Sensor is designed in a way so that it could work for 10 days of use going with the Dexcom G6 CGM system. You will be receiving a total number of 3 in the pack. The best thing is that each sensor is inserted with a simple, one-touch auto-applicator device available in that box.
If you want to use that Dexcom G6 System, you will need to go with a Dexcom G6 Transmitter as well as a compatible smart device or could be said Dexcom G6 Receiver.
You may also buy over patches so that your sensor remains at the ideal place being secured and cleaned. Before buying, you should check if the smart device is compatible with the DexcomG6 App or not. Moreover, it will also be good if you review the terms and conditions carefully.
What about the prominent features?
In this section, we are going to mention the prominent features. Let's check it out more about it in a detailed manner
It makes it possible to track your glucose number in real time following only one look at your device.
It comes up with excellent durability. It is an excellent water resistant sensor for up to 10 days.
This device comes up with customizable alerts as well as alarms. You would be able to set your range as well as notification following your readings.
The best thing about this device is that it comes up with a simple auto-applicator. It comes up with a one-touch applicator. It is quite easy to insert a small sensor just below your skin in the context of easy reading.
Is It Simple to Use or Not?
The blood glucose monitor is good at measuring glucose following a single moment in time. It needs a fingerstick each time a patient requires to go through glucose levels. With this product, it becomes easy to get continuous glucose monitoring systems to check glucose all around the day and night alerting patients to make sure that glucose level is quite high or low.
The best thing is that it can be done even without the need for a repeated fingerstick. The best thing about the Dexcom CGM system is it imparts an entire picture of glucose numbers as well as trends so they could be able to check their health proactively.
Why Health Experts Also Recommend it?
The durability factor makes it worthy to buy and use. You can use this water-resistant sensor for at least 10 days. The best thing is that it comes up with customizable alerts and alarms. All you need to go with the option of range and notifications regarding your readings. It is quite easy to use making it worthy to pick.
Why People Do Buy Dexcom CGM System?
Have you been wondering why people should buy Dexcom CGM System? Here, we are going to emphasize that point
It always remains ON. Dexcom CGM system collects data 24/7 imparting 288 glucose-level readings a day.
The next level is that it mitigates A1C. It means Dexcom CGM systems are quite well designed and have also proven to lower A1C. Moreover, it also reduces hypoglycemic incidents.
You would not need any fingerstick. Yes, it is possible. The Dexcom CGM system plays a major role in the context of placing a sensor under the skin connecting to the transmitter. Since the fingerstick calibrations are not needed, it does not mean that you cannot enter calibration at all. You can enter it if you require.
Wear sensor is available for 10 days.
Data trend analysis is also getting easy to do. Dexcom CGM systems impart dynamic as well as real-time information regarding the glucose levels as well as the rate of change.
The guesswork is also minimized. It plays a major role to help patients so that they could have sound diabetes treatment done.
Apart from it, you could also have the best features such as sensor overpitch, urgent low soon alert, new sensor applicator, acetaminophen blocking, etc.
The Advanced Dexcom G6 Sensor
Talking about the new one, it comes up with new improved sleek as well as slim. This advanced version of Dexcom G6 sensor is good at measuring your glucose levels as well as sending the data wirelessly to a display device following a transmitter. Attaching a transmitter to the Dexcom G6 sensor means it will be bringing the real-time glucose reading available on your smart device or on the Dexcom G6 Receiver.
You may also go with thin cutting-edge Dexcom G6 Sensors easily with Transmitter and Receiver (DexCom G6) easily to find out glucose reading in real-time. Talking about the G6 sensors, it is known for transmitting glucose levels without the help of your display device going with a transmitter good at reading on the Receiver.
If you have extra ones which you are not using then you should sell dexcom g6 transmitter at sellmystrip.com.
The fact cannot be ignored that Dexcom G6 was a game-change since it was firstly CGM to end the everyday torture of finger pricks. Most people are curious to know how dexcom g7 is different from g6. Here, we are going to mention the differences
The G7 will be about 60% smaller in comparison to the G6-slimmer, highly svelte, and quite easy to disguise under clothing so that it would be able to dig out even the skin-tight leather pants. You would be able to flaunt your style easily.
The Dexcom g7 transmitter comes up with a highly simplified application as well as a quick sensor warm-up time.
The best thing is that the transmitter and sensor on the G7 will easily be combined. It would be completely disposable units so that you would be able to toss everything in one go.
Dexcom is currently going with trials along with the G7 following multiple wear locations such as upper arm and abdomen.
Talking about the G7, it comes up with a longer wear time. Though the accurate number of days is TBD.
Conclusion
Being a next-generation device, it is supposed to be 60% smaller in comparison to the G6 having an all-in-one sensor applicator as well as the transmitter. Moreover, Dexcom is also adhered to with a 30-minute warm-up period. It comes up with the ability to get connected along with different insulin delivery devices. Choose sellmystrip.com if you want to sell Dexcom g7 transmitter.